geoffff
I
n the UK it is slowly dawning on MPs that by funding the PA, British taxpayers are involuntarily underwriting a culture of hatred and glorification of mass murder and terrorism intended to magnify and spread the conflict to the next generation of Arab youth and then the next forever until the Jews have been beaten and destroyed. It is money for war against the West. We are paying for the rope to hang us.
Palestinian-ism is not an ideology to free the "Palestinians" from "occupation" and to address their "legitimate grievances and national aspirations". That is the default lie of the lame and lazy everywhere Palestine-ism is a movement that has as its object the building and sustaining of a society rooted in perpetual violence and racial and religious hatred for its own sake.
UK Parliament scrutinizes Palestinian hate incitement,
terror glorification and British funding of PA
in debate examining PMW findings
MP Ellman: "The matters... are truly shocking and put a question mark over the status of the Palestinian Authority as a partner for peace"
MP Henderson: "No peace agreement will be able to guarantee...
peace if a generation of Palestinians is growing up indoctrinated
to hate Israel, Jews and the West"
by Itamar Marcus and Nan Jacques Zilberdik
British Parliament recently held a long debate examining "hate incitement against Israel and the West by the Palestinian Authority." The debate was initiated by MP Gordon Henderson. Henderson and other MPs cited
Palestinian Media Watch
's documentation of PA hate promotion and terror glorification, which they had seen in recent meetings with PMW Director Itamar Marcus as well as in PMW bulletins and reports.
MP Gordon Henderson on the severity of the Palestinian culture of hate:
"It is clear that a culture of hate has wormed its way into the very fibre of Palestinian society. Incitement to hate is pervasive in Palestinian school textbooks, on television programmes and at cultural and sporting events. Palestinians have been consistently and unremittingly taught to hate Jews, Israel and the West... Incitement takes many forms. It ranges from the denial of Israel's right to exist to the abhorrent glorification of violence and infamous Palestinian terrorists." [British Parliament debate, Feb. 26, 2013. All quotes below are from this debate.]
Where is the debate in Australia? This is after all an election year.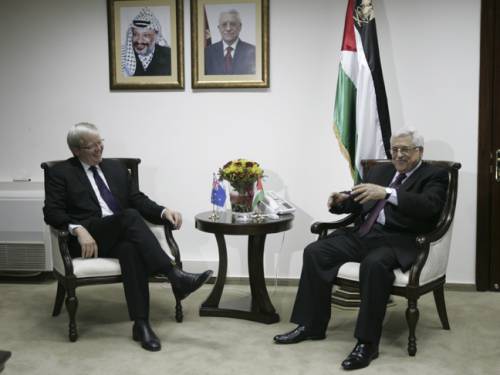 Meanwhile From The Land Down Under
Australia has a Partnership Agreement with the Palestinian Authority that was signed on 18 September 2011 by Kevin Rudd MP then Foreign Minister and Dr Salam Fayyad Prime Minister of the Palestinian Authority.
Under the Agreement Australia is committed to fund terror glorification, the incitement of racial hatred and perpetual war as follows:
This is in addition to what we are committed to UNRWA to educate Arab kids in Jew hatred. Aren't we generous. Doesn't that give you a warm inner glow to the very pit of the stomach?